Recloser Rocket-1®
The market's challenge
About 80% of the faults in overhead power distribution lines are temporary and can be cleared by using reclosers.
Traditional solutions for protection and automation of overhead distribution power lines are highly complex and do not fully meet the demands from utilities, especially about single-phase networks. Most of the time, the equipment is restricted to local commands and operations, requiring the deployment of a complete crew in the field for operation and maintenance of the equipment, generating high costs and periodic interventions. Moreover, these equipments have limitations in configurations.
PROTECTION AND AUTOMATION OF SINGLE & THREE-PHASE SYSTEMS
Remote-controlled smart grid solution that reduces permanent fault events by up to 80%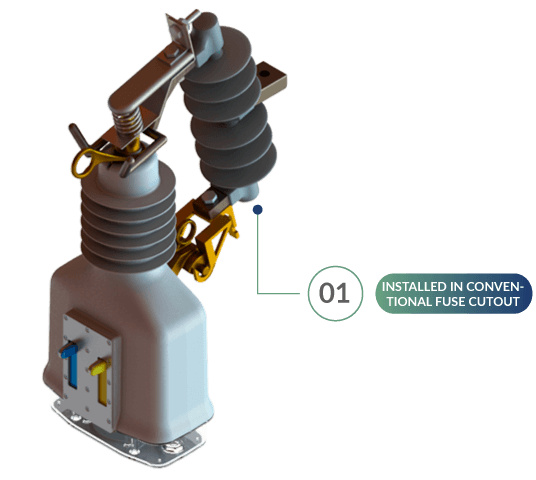 The Solution
Rocket-1® Single-Phase Recloser is a smart grid solution for single and three-phase power lines. It has an onboard communication module which enables the supervision and remote control of the recloser through IoT networks, representing a cost reduction of up to 80%, related to the expenses with field trips and compensations.
Rocket-1® is easily installed in conventional fuse cutouts, without the need to use of special tools.
About Rocket-1
In this video, we present the main features of Rocket-1. It is possible to understand the cost-benefit relation that the energy utility will obtain with Rocket-1.
Click on the image to watch the video.
Designed for 10,000 maintenance-free operations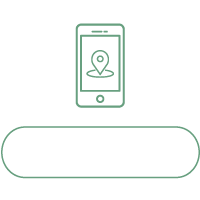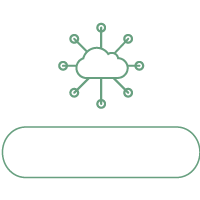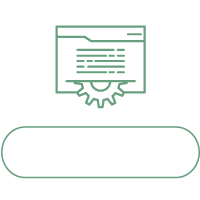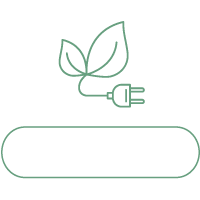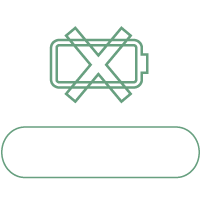 Advantages Product
Protection, communication and remote control
Fully developed and manufactured by Hart BR, Rocket-1® Single-Phase Recloser combines protection, communication, automation, and remote control features in the same equipment.
Everything is useful and economically feasible, by using available IoT communication technologies.


Protection with longer reclosing times
In addition to the Sectionalizer and Switch Mode (protections off) features, Rocket-1® has 4 operations up to lockout (without the recloser dropping from the fuse cutout).

Bluetooth and IoT Network Communication
Communication and parameterization are done locally via App (Bluetooth) or remotely via IoT networks.


Remote Control via IoT Networks
By using the onboard communication module, it is possible to supervise and remotely control Rocket-1® via SCADA systems.
Mechanical Levers
Command system for local or remote operation
Rocket-1® Recloser is mechanically operated by the yellow and blue levers.
Local Mode
When one of the levers is pulled down, Rocket-1 goes to Local Mode, ignoring any remote commands from SCADA or App Hart Devices.
Remote Mode
When the levers are in normal position, Rocket-1 is always in Remote Mode, ready for SCADA commands and connection via App Hart Devices.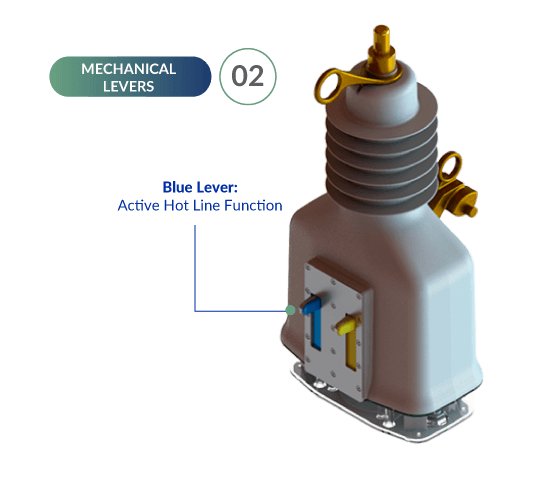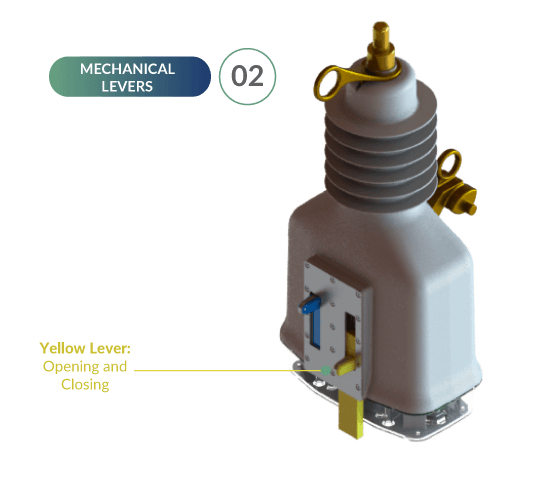 Technical Characteristics
Main technical features of Rocket-1®
Android and iOS App
Hart Devices App local operations
Watch the video and check out a few features of Hart Devices App!

Commands by Hart Devices APP
Besides helping to reduce service time and increase operational safety, with Hart Devices APP it's possible to access Rocket-1 by Bluetooth for:
Checking IoT network connection status;
Import and export protection settings.
Further details regarding the application are described in the brochure.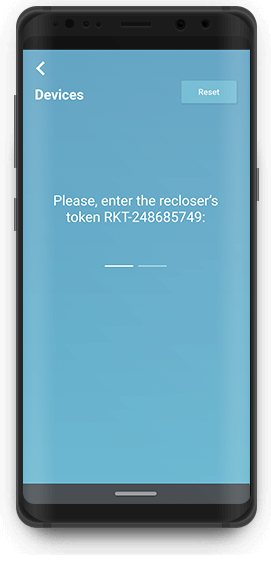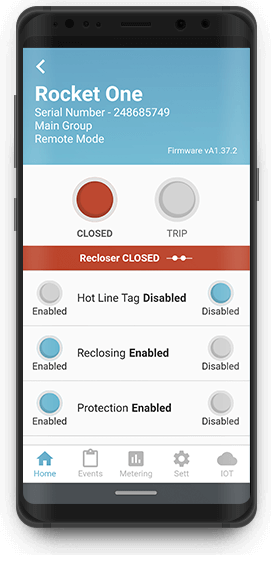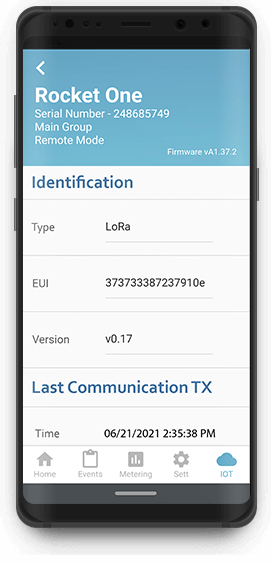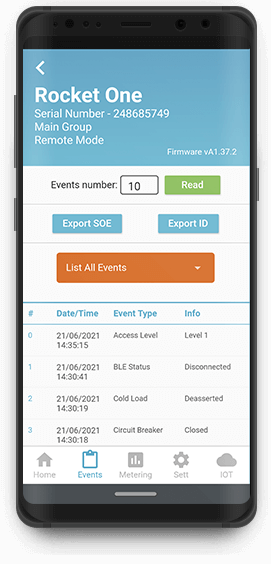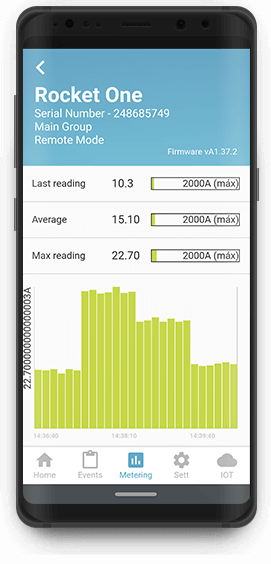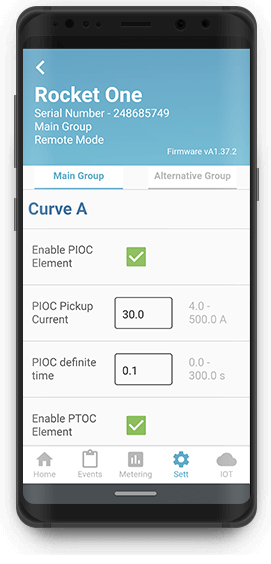 Cutting-edge IoT Technology
Integration with SCADA system with Cyber Security
LoRaWAN and NB-IoT (Internet of Things) technology ensure that data communication between field devices and SCADA (Supervisory Control and Data Acquisition) systems is always secure, because they offer end-to-end data encryption, dedicated to network and application servers.
Onboard radio and antenna
Internal Modules powered by the recloser
No external devices are required
Integration by standard protocols
IoT Protocol Broker
ArpeggIO® Suite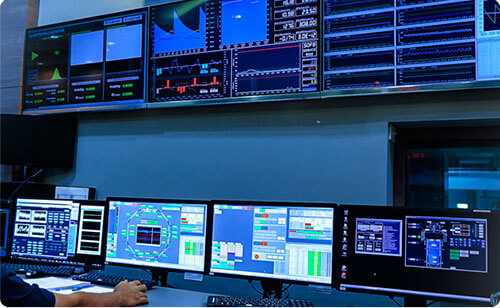 ArpeggIO Suite provides integration between IoT network and legacy systems
ArpeggIO is a system that operates as a broker for IoT protocols, such as MQTT, providing integration of Rocket-1 with utility systems.
Device connection management;
Cyber security algorithms;
Recloser remote configuration;
Configuração remota dos religadores;
IoT protocol conversion to DNP3, IEC-61850, IEC-104, and others;
Logics por automation and system restoration;
Cost vs. Benefit
End-to-end benefits
Look at the main features that provide greater reliability and better results for the whole Utility ecosystem.
Additional Information
Learn more about Rocket-1
Obtain additional product information! Browse the tabs to watch videos or download the brochure and the pocket guide.
If you prefer, contact our sales team. We're ready to serve you!

Brochure and Pocket Guide
Certification
Product tested in
CESI-Italy
In compliance with IEEE C37.60-2019, Rocket-1® Single-Phase Recloser has been tested and passed in all tests. Highlighting the following:
Continuous current test - 200A​ // Surge current - 65kA​ // Protection degree - IP65 // Overcurrent switching tests- 4.2kA/1s // Minimum tripping current - 4A // Mechanical operations​ // Partial discharges​ // Dielectric tests // Time vs. Current test (ANSI and IEC curves)